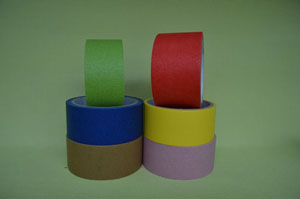 Consist of crepe paper and pressure-sensitive rubber adhesive.
Backing: Crepe paper
Adhesive: Rubber
Width: 5mm~1020mm
Length: 18M/30M/50M Customized length available
Temperature resistance: 408-X could withstand normal temperature.
408-80 could withstand 80℃/176℉
408-12 could withstand 120℃/248℉
408-18 could withstand 180℃/356℉
Features:
Difference temperature resistance available, no residual adhesive after peeling, solvent resistance.
No halogens, eco-friendly products.
Application:
The tape is typically used in automobile, iron and plastic products painting protection, also can be used in electronics, circuit board, etc.